Today I was in my element: lots of climbing up mountains (well, hills technically), getting incredible views from up high, and just enjoying the great outdoors. There are many reasons why I love traveling, one of the main ones being the magnificent natural beauty of the world and today we got to experience that combined with a beautiful city that I've fallen in love with in my short visit here.

Before hitting the hills, we met up with Calvin's friend Alistair who now primarily lives in Cuba but is originally from Edinburgh and happened to be in town just for this weekend. Since the rest of the group didn't make it to Greyfriars Kirkyard yesterday and it is basically across the street from our hostel, we made that our first stop of the day. Alistair pointed out this adorable dog statue that I missed yesterday (in case you didn't know already, I'm a sucker for dogs - even inanimate ones).
Edinburgh is said to have been built on seven hills, a tribute to Rome, and they certainly succeeded on the hill part, though the exact number and which hills make up the seven is up for debate. Many hills are integrated to the city itself as you find yourself wandering up and down, up and down to navigate the city, with plenty of balconies and underpasses along the way. I completely love this aspect of the city because it gives it a unique feeling that I haven't experienced anywhere else (at least as of yet).

Calton Hill, one of the main seven, is in the middle of the city, and houses the National Monument of Scotland - which was never completed due to lack of funds - and the Nelson Monument. It's a small hill, taking less than five minutes to stroll up the set of stairs and the slight incline.
Once we were done at Calton we drove half way up Arthur's Seat before hiking the rest of the way up. As we were entering the park, we had a standoff with another driver who was trying to come down a one-way road the wrong way. Neither her nor Alistair showed any signs of moving as both cars just sat there facing each other, waiting for the other to admit defeat. Finally a third car pulled up behind us and she decided to move. As we passed her she told Alistair off as we all laughed hysterically. Oh how I love Brits.

Today was a gorgeous, sunny day and everyone seemed to be out to enjoy a short hike up to the peak of Arthur's Seat to take in the views of the city, including Edinburgh Castle. When you're standing next to it, the castle looks massive, but from up here it looks tiny. The landscape of the city was made that much more beautiful by the water and mountains off in the distance. On our way back down, I embraced the kid in me by rolling down a small portion of the hill.
Hillend was the final hill we would be trekking up. Each hill we climbed was a little bit taller than the previous, and while hiking up Hillend is completely doable, we decided to take the ski lift up halfway. And apparently Hillend is Europe's longest dry ski slope. I didn't even know dry skiing was a thing.
From the top was a great view of the Pentland Hills as well as the entirety of Edinburgh. Unlike Arthur's Seat that is in the middle of Edinburgh, creating a 360 view of the city, Hillend is just south of the city giving you the entire picture (including Arthur's Seat, which now seems puny). Also unlike Arthur's Seat, there are virtually no crowds because it is outside the city (thanks again, Alistair, for driving us around!).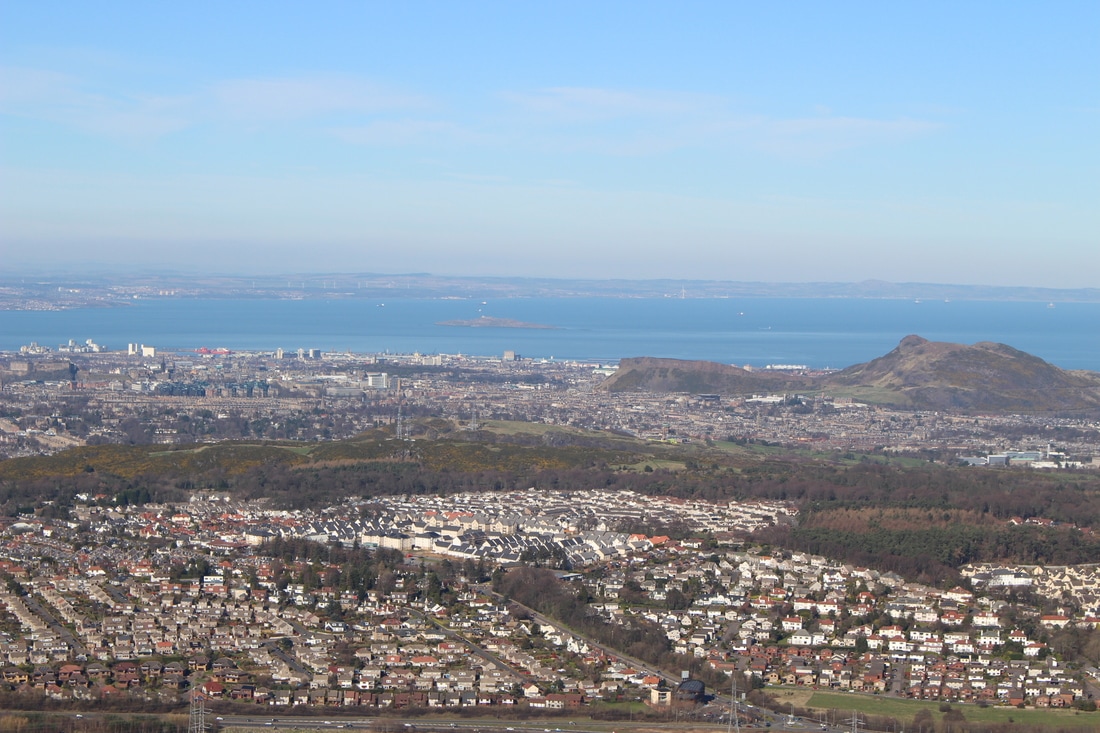 On our way back into the city we did a quick drive by of The Elephant House, a cafe where J.K. Rowling is said to have spent time writing.
Then it was finally time for a late lunch (or perhaps early dinner?). Locally brewed beer and some lobster mac and cheese certainly hit the spot. Oh and gelato to finish off.
At this point it was time to say goodbye to Calvin who was catching an overnight bus to London for his flight home. Mihaela, Ambrose, and I decided to grab some deep friend Creme Eggs and Mars Bars from Cafe Piccante - which is either a world record holder or world record attempter, it was slightly unclear.
Fried food will forever be my weak spot.

To finish off the night, we had a lovely stroll back to the hostel, checking out the Balmoral Hotel, the Scott Monument, and the Scottish National Gallery. And some random giraffe statues.
We finished off the night chilling in our hostel, drinking some cheap wine and beer from Tesco. Ambrose heads off early tomorrow morning, leaving Mihaela and I to continue enjoying Ediburgh until we depart in the evening.

Reflection
Whenever I travel, I always end up learning something about myself and I believe that's a significant aspect of travel for anyone. This trip played a small, but meaningful role in reiterating something I've known for a while, and illuminated this knowledge in a new way. Looking back on my life, my gender as always been something I am hyperaware of. Since coming out as trans, this has been exacerbated. Most of the time, that hyperawareness manifests in a negative way. This weekend taught me that I shouldn't let my hyperawareness be a negative thing (easier said than done, I know).

hen we were standing on Arthur's Seat among the crowds of people, I debated whether or not I should pull out my Trans Traveller flag for a photo op. I knew people would look at it - and me - quizzically, and possibly judgementally. I ultimately decided to go for it (even though the wind made it slightly difficult) and forced myself to use that moment for what I intended it to be: an empowering statement that trans people can and do travel the world despite the obstacles we face. By channeling my hyperawareness into something I hope will be a positive outlet, I'm not only doing something good for myself by keeping the negativity at bay but also making others aware (even if in a small, seemingly insignificant way) which is a necessary first step in building allyship.