Let me start out by giving a bit of context for this trip, since many people seem slightly confused about how in the world my Easter break trip ended up being three seemingly very random countries with very little common thread. If you've heard me explain this, then skip to the next paragraph. But sometime in the fall semester Erin - who lives in the flat next to me, is in the same course as me, and is also American, all of which combined made us almost instant BFFs – mentioned how she wanted to go to Italy for part of our Easter break. I was immediately on board. But she was planning on going back to America for the first week, while I wanted to travel the whole time. And since I'm a slight masochist, I thought I'd do another half marathon so I started looking for half marathons in Europe over Easter weekend. Hence Czechia. A few months after that was decided, I found out Tori, one of my best friends from home, was visiting Ireland and it so happened to coincide with the first few days of my Easter break. So the next thing I know, I'm booking multi-city flights from London to Dublin to Prague to Naples.

After months of looking forward to this trip, it has finally arrived. My morning started out early as I made my way to the train station to get to Gatwick for a 8:50 AM flight. I'm overly paranoid about missing flights, especially early morning flights so hardly slept at all, waking up every so often panicking I had over slept. But I made it in plenty of time, and the next thing I know I was in Dublin checking into my hostel, dropping off my luggage, and wandering around the city before noon.
I ended up making a few stops - Dublin Castle and Christchurch Cathedral - that I would double back to learn more about later in the day on my free walking tour. Dublin Castle doesn't look like most castles you think of when you think of castles because it burned down in 1684 and now only one original tower remains. There's also a statue of Lady Justice – which if you examine closely isn't your typical Lady Justice depiction.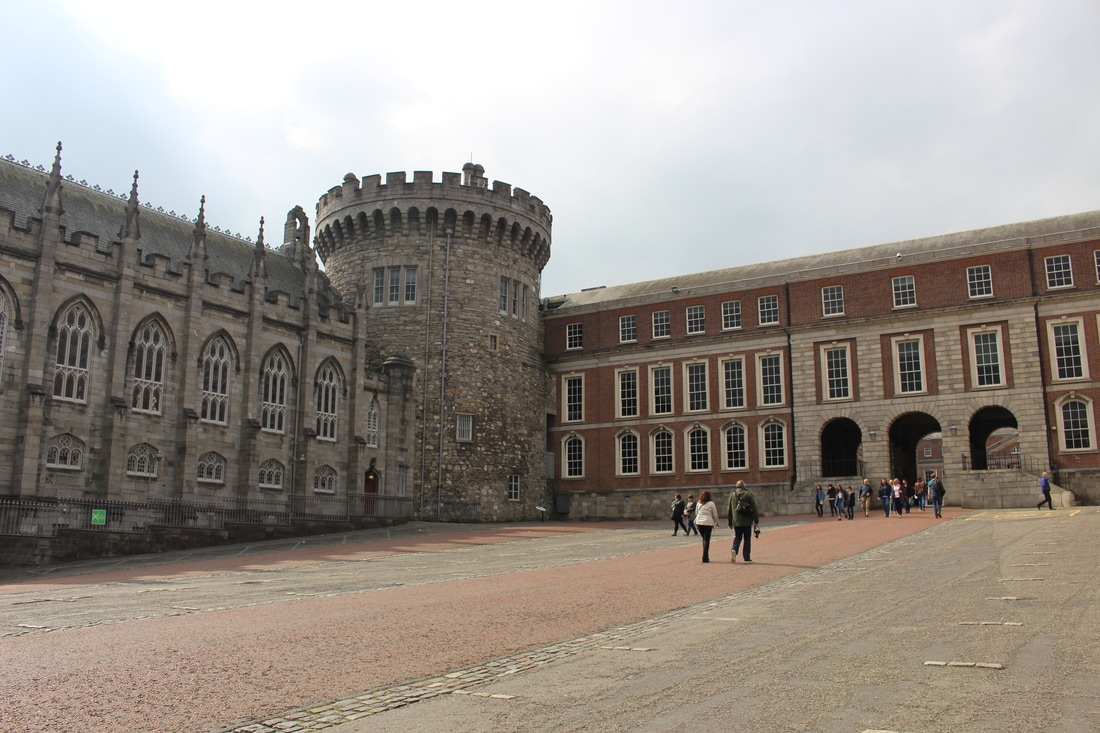 Christchurch Cathedral Dublin is seemingly just another cathedral, nothing too grandiose or spectacular (honestly, after visiting churches/mosques in Istanbul and Russia, it's going to be hard to ever met those standards again). But make your way to the basement and you find yourself in one of the largest crypts in the world, the largest in Britain or Ireland, with some interesting artifacts - including a mummified cat and rat.
Now it was time for the start of the walking tour. Even though I did do some backtracking to Dublin Castle and Christchurch Cathedral, the walking tour was a great choice. The guide was funny and knowledgeable, and we learned about everything from the history of Ireland (including Leprechauns and Atlantis), to the pathetic tribute to a rock n' roll legend from Dublin, to the history of Temple Bar. He also taught us a bit of Gaelic including "craic" (pronounced like crack) which means fun. We later passed a shop with a shirt that says "craic dealer" on the front which I found amusing. But my favourite part of the tour was when this drunk person wearing a St. Patrick's Day hat starting mocking our tour guide from the window of Temple Bar. Our guide was completely oblivious.
My only regret about the walking tour was that I had to leave slightly early in order to go meet Tori at the Guinness Storehouse for a 5:00 PM tour and tasting. The building itself is in the shape of a pint glass, making it the world's largest pint (the length which people will go to claim the world's biggest/longest/best/etc. X is strange to me). As you move up the complex on the self-guided tour, you learn about the brewing process, the history of Guinness, Guinness advertising, and more.
Next you're corralled like cattle into a queue for the tasting room. It's bright white with four vats diffusing strong scents from the four components of Guinness – supposedly meant to simulate all your senses to help you better enjoy the taste. You get a miniature glass for the tasting so you can first learn how to properly taste and enjoy Guinness.
Finally, you get to learn how to pour the "perfect pint."
Which you then get to consume in the Gravity Bar for some beautiful views of Dublin while enjoying your pint. If it weren't for the gloomy skies and massive crowd (this is a tourist trap after all) making it difficult to move, it would have been perfect.
And at this point, Tori and I were starving so made our way through the light rain to an Indian and Nepalese restaurant before crashing early.