So the hostel I'm staying at isn't the greatest, but it did come with free breakfast which was much needed this morning so I'm not complaining. After consuming as much food as humanly possible in one sitting (as you do when the food is free), I made the 25 minute walk to Pedal Power where I had reserved a bike to rent for the day. It was only £20 with a student ID for 4-24 hours (they have cheaper prices as well if you won't be gone that long). It includes a helmet, bike lock, and a small repair kit if you end up needing it (thankfully I didn't).

Soon I was off on the Taff Trail towards Caerphilly Castle. The first part of the ride was pretty flat and very pretty.
Once I got into the small town on Tongwynlais, it was just as pretty but I found myself going straight uphill. Soon I found myself on a one-lane back road in the middle of the woods with none of the familiar sign posts for Taff Trail that I had seen earlier. And of course no service.

I knew I hadn't gone farther enough north yet so I just kept heading that way – which happened to be more uphill. I eventually found the Green Lady Trail which leads directly to the castle. I later found out Taff Trail splits off into two parts and I apparently took the wrong path and added about a mile and a half of cycling and a lot of unnecessary elevation to my day. But I saw a horse so it's okay.
After finally arriving to Caerphilly Castle, I was immediately greeted countless geese, a man fishing out of a tent, and this parking bay. I was disappointed the ice cream trunk wasn't actually there.
Back to the castle itself: is It's the largest castle in Wales, surrounded by a moat, and has a tower that leans 10 degrees making it the most (unintentional) lopsided building in the world (at least that's what people here claim, but it's still not in the Guinness Book of World Records).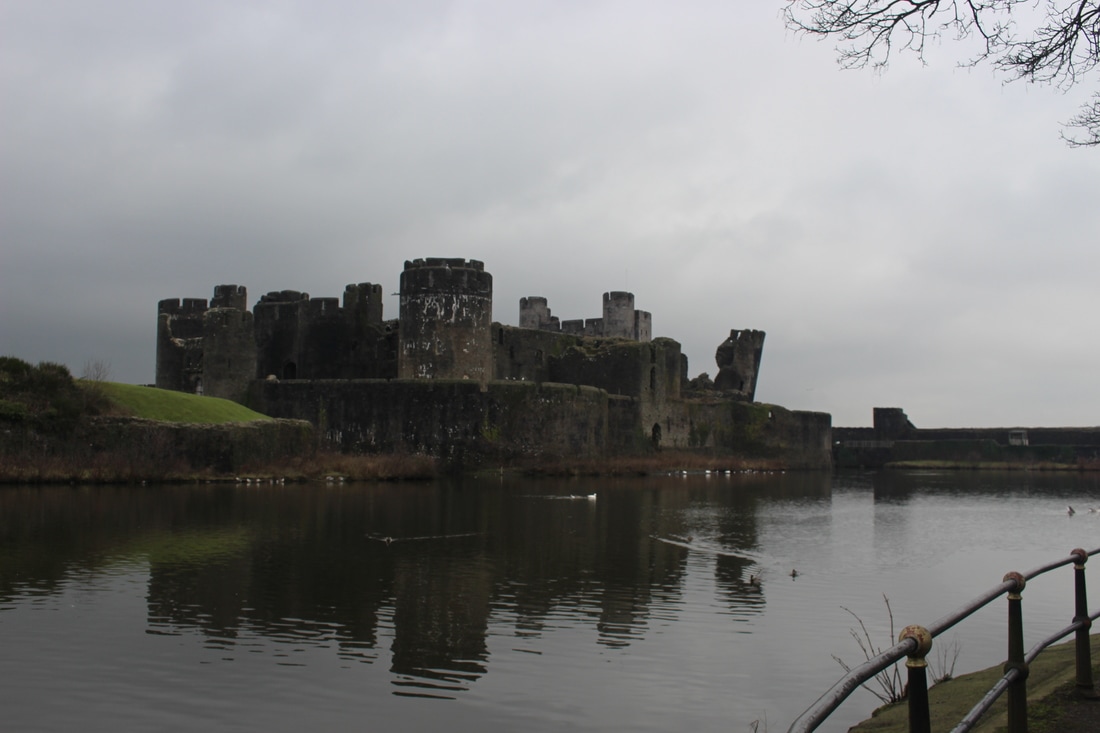 After wandering around the outside of the castle (I read online that a lot of the rooms are temporarily closed for refurbishing so I decided paying to go in wasn't worth it), I jumped back on my bike to head towards Coch Castle in Tongwynlais. This time I took the right path and it was MUCH flatter until I got to the entrance. I ended up having to walk my bike up because there was no humanly possible way I could have rode up that hill. I was drenched in sweat and my legs were shaking by the time I got to the top.

Coch Castle, also known as the Red Castle, in my opinion was sub-par as far as castles go. But I enjoyed the view and ate my picnic lunch at the top before heading back down.
Next stop: Llandaff Cathedral. The outside of the church is absolutely stunning. The inside certainly wasn't as elegant as some of the churches I have been in, but I loved the simplistic architecture.
And there was a massive organ with four different sections of pipes. The church music nerd that my dad created in me lives apparently.
It was now time to head back into town to return my bike and make it to Cardiff Castle right before closing. This was hands down the coolest stop of the day. And the sun finally decided to come out!
I personally loved the gendered war paraphernalia in the air raid warden.
Once the castle closed, I made my way to St. John the Baptist Parish Church right across the street. Unfortunately it was closed but it was cool nonetheless to see a medieval church smack in the middle of a shopping district and it had a cool sign out front.
And on that note, I was starving and exhausted so I grabbed a Cornish pastry before heading back to my hostel for a relaxing evening at the adjacent bar.