After an overnight bus from London, I arrived at our hostel in Edinburgh to be reunited with Mihaela, who was on my first trip with the Monsoon Diaries on the Trans-Siberian/Mongolian. We caught up over coffee and beans (that's what was left over from her English breakfast) while waiting for Calvin and Ambrose to arrive from the airport. I was quickly reminded of how much I have missed Mihaela's laugh. <3

Once we were all together, we made our way to Edinburgh Castle which gave us some beautiful views of the city. The castle itself was slightly subpar in my opinion – especially compared to Cardiff Castle in Wales – but I did like seeing the Crown Jewels (which of course you couldn't snap photos of).
We left the castle and began a stroll down the Royal Mile, which is the main road in the Old Town of Edinburg, making a quick stop at St. Giles Cathedral (no pictures, whomp). And because this is Scotland, we of course saw a person in a kilt playing bagpipes while walking.
The Royal Mile was once filled with closes – which are essentially tiny alleyways that working class people lived in before building the Royal Exchange on top of these homes. Mary King's Close is still open to the public (if you want to pay for the ticket, that is), and it is like taking a tour of an underground city. Alas, no pictures here because 1) you're underground so the lighting is terrible and 2) they have to preserve the walls so they don't collapse (comforting, right?) and flash can cause damage so all photography has to go. Once you walk down into the close, you feel like you're in a haunted house as a quirky guide tells you tales of families that lived here, the black plague killing those families, the ghost of a little girl, and more. Definitely worth it.

At this point we were losing stamina and getting hungry. So we decided to head back to the hostel and pick up some food along the way. We stopped at a place called Oink which served pulled pork and haggis – a traditional Scottish dish. It cost £3.95 for a sandwich and it was oh so delicious.

While Mihaela napped, Calvin went to the Apple store to get a new charger, and Ambrose took a stroll, I did my own wandering around and found myself in Greyfriars Kirkyard, a cemetery surrounding Greyfriars Kirk which is a parish of the Church of Scotland. As weird as it may sound, the cemetery was actually really pretty and there were bagpipes playing in the distance. So I found a bench and sat down to do some reading for my dissertation (let's not forget I'm a full time student and the only way I can justify traveling this much is to do at least a little work while on my adventures). Ironically enough, it was the same book I freaked my bus mate out with last night: On Killing: The Psychological Cost of Learning to Kill in War and Societ. Because reading about killing while sitting in a cemetery is normal?

The group met back up to head to a hookah bar (a trip with Calvin is not complete without some hookah) which had a balcony overlooking the city. We sat enjoying the view, chatting about life and all things social justice related (one of the many reasons why I loved traveling with the Monsoon Diaries the first time and decided to come back), and I some how managed to not get a photo. That seemed to be a theme for the day compared to a lot of my recent trips. I was focused on just enjoying the moment instead of capturing every single moment which was a nice change of pace. Don't get me wrong, I still took photos, it just wasn't as obsessively as I tend to be.

Ambrose has a colleague, Eve who lives in Edinburgh who we met up with. She took us on a walk from Old Town to show us around the New Town, consisting of beautiful architecture and lots of posh homes.
We made our way to Leith for some Whiskey (because we are in Scotland, after all) where Eve taught us how to properly drink Whiskey. I've always enjoyed Whiskey but have never learned how you are supposed to drink it so that was a nice treat. By now it was almost 9:30 PM and we were starving. So we said our goodbyes to Eve and made our way to The Kitchin, a Michelin star restaurant, for our reservations. If you want a more detailed list of everything we ate, check outCalvin's blog.

I'm generally pretty chill about food, but every once in a while I do love to treat myself to a nice, fancy meal and this was definitely a treat that will last me a few months. It started out as nothing unusual: cocktails, bread, and an appetizer made of pureed carrots and vegetables cut into little balls. We were also given a map showing where in Scotland the different dishes came from since it is a nature to plate restaurant.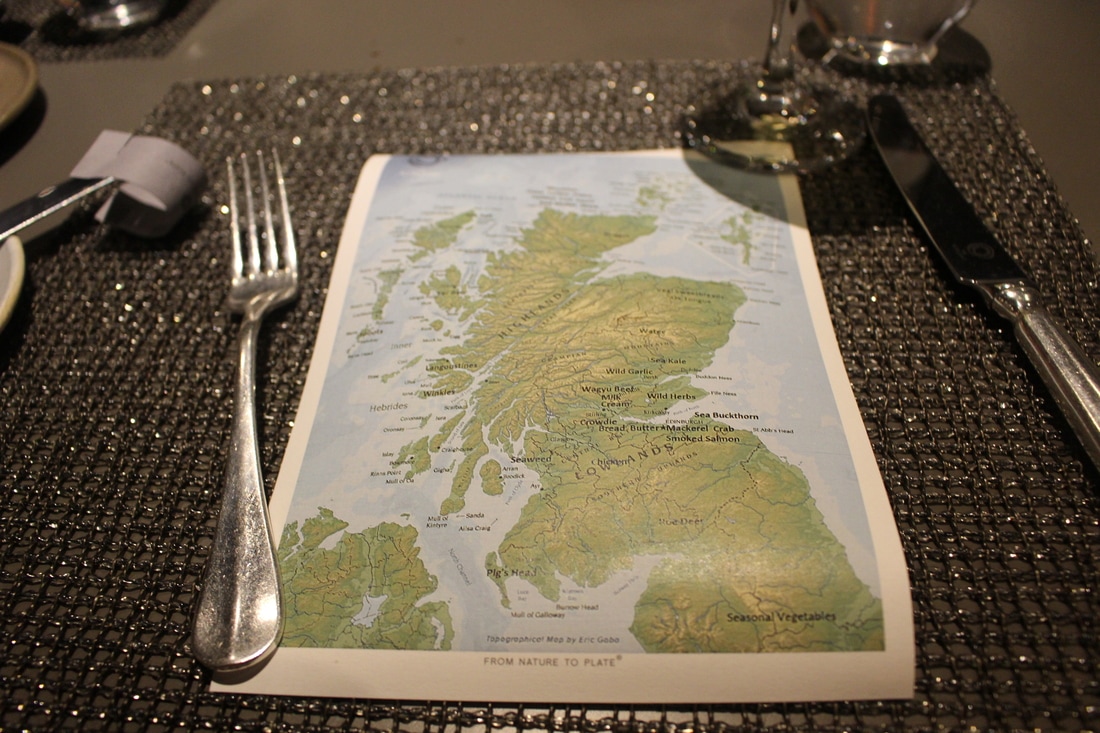 Then came the real good stuff. I don't think I've ever had meat this good in my life (okay, I may be exaggerating, and I was vegetarian for almost 9 years so I'm probably not the most qualified to judge meat, but it was amazing). And I got a quail egg! It was so cute.
Next was this bad boy. Imagine a Shepherd's Pie, combined sea shell, combined soup.
I'll let the rest of the food do the talking. All I'll say is yum.
Today was definitely a day I needed: a break from the stress of school, lots of laughter with friends, amazing food, and a beautiful city to explore. The past few weeks I have been on edge from the panic of an impending dissertation on top of two term papers, work, and trying to maintain a social life and normal sleep schedule (ha) and this space away from my head turned out to not just be desired but necessary. I just need to find better ways to get this kind of relief on a more regular basis in Brighton :)

And now it's time for bed as tomorrow awaits for another full day in Edinburgh.