Everyone I talked to about Italy said that Pompeii had to be given a full day. I knew you couldspend a full day exploring the archaeological site, but did I really have to? I mean I'm only in Italy for a week and there's a lot I want to do. So after some research on transportation and opening hours, I created a hefty and ambitious schedule for the day.

I woke up at 7:30 AM to get ready and check out of my hostel. I was out the door by 8:00. On my way out, I ran into another backpacker at the hostel who was heading to Pompeii as well and we ended up walking and taking the train together. It's moments like these that I love most about travel: the people. Even though we parted ways upon arrival at Pompeii as I already had my ticket and would be speeding through, I still felt like we became quick friends in the short time we were together, talking about everything from school, to why we're interested in the things we study, to family, and life lessons learned through travel.

The train station didn't have a ticket booth or machine, so we just got on and hoped for the best. No one checked for tickets so free transportation to Pompeii: check. My €22 ticket from Ercolano Scavi yesterday included Pompeii (as well as other sites I wouldn't have time to make it to so it basically ended up being €11 for each site). I went straight to the entrance only to be told I had to put my bag in left luggage but thankfully it was free, even though I had my large backpack with me. Oh yeah, my schedule didn't involve enough time to leave my luggage at the hostel, so I was carrying it all on my back for most of the day. I was inside by 9:10 AM. Since I bypassed the queue, I didn't grab a map. At first I was really frustrated at this oversight, but quickly realised that I was more than content just wandering around to see the ruins.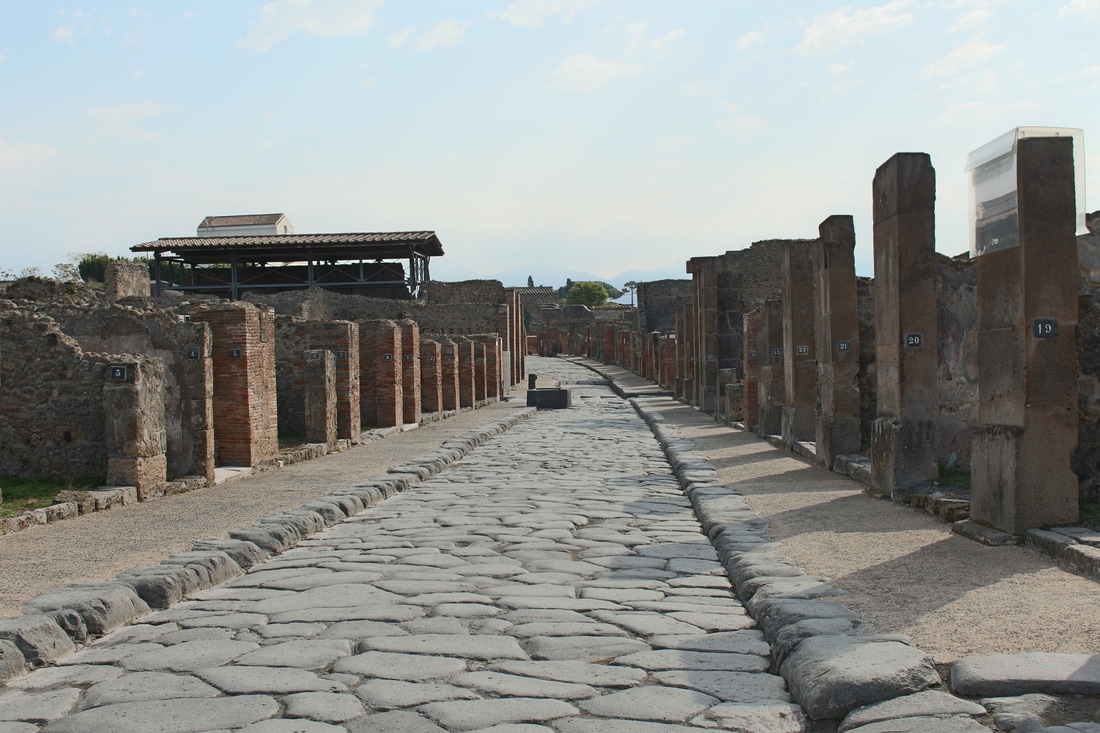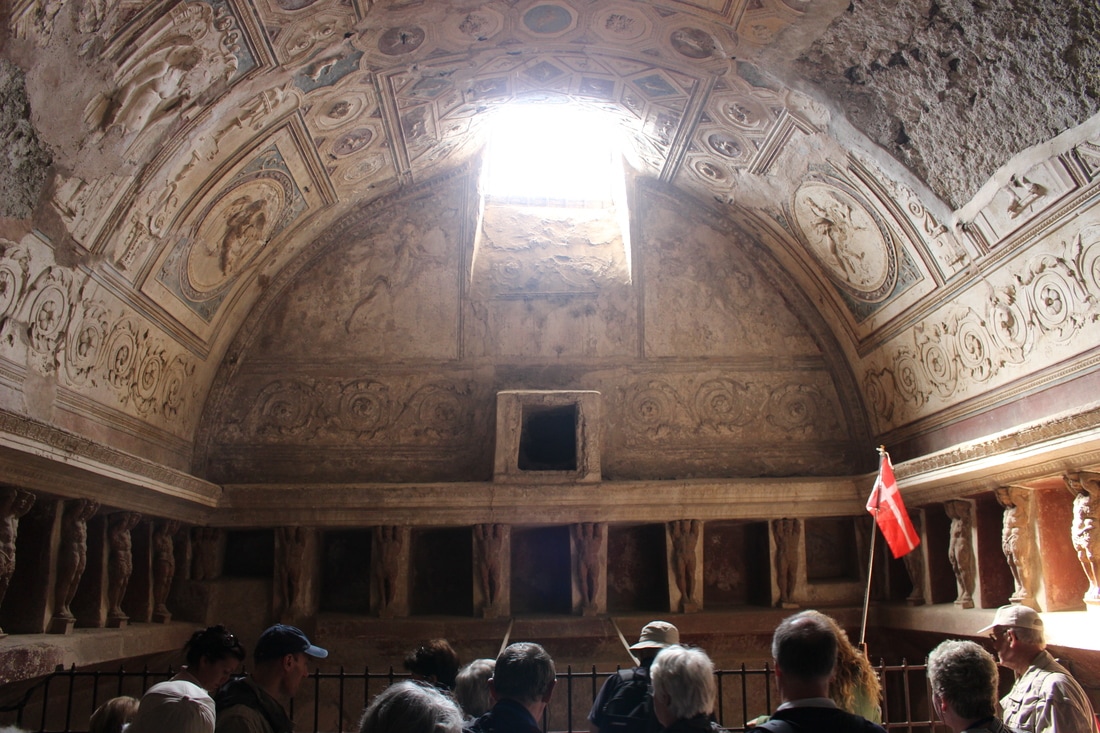 My favourite part was definitely the amphitheatre on the edge of the complex. It's the oldest surviving amphitheatre of the Roman empire. There was something peaceful about standing in the middle of this massive arena by myself.
Two hours of exploring later, I decided it was time to get moving on towards Mount Vesuvius. I definitely could have stayed longer and don't feel like I even scratched the surface of all there is to see at Pompeii, but I felt satisfied. I grabbed a bus for €2.70 that would take me right to the base of the crater trail. The admission ticket was €10, bringing my total for the day thus far to €23.70. The bus ride was just under an hour. I began hiking the relatively easy trail and immediately started regretting this plan. My legs were literally shaking from exhaustion from having run a half marathon less than 48 hours prior with no real recovery time. But, even with the clouds and physical pain, the view was absolutely worth it.
Though the crater may not look like more than a bunch of rocks, the consistent steam coming from the sides reminds you that this seemingly calm site can become vicious at any point.
A little after 1:45, I hiked back down and was ready for the fun part of the day: trying to find a way to Naples without paying an arm and a leg. There are tons of shuttle and tour buses that go between Pompeii and Vesuvius, but Pompeii was the opposite direction that I was heading. There's a direct shuttle between Ercolano and Vesuvius but you have to buy the tickets at the train station in Ercolano. After asking about a dozen different bus and taxi drivers and either being told no or asked for way too much, I was ready to hitch hike down then take the train. But I saw another shuttle bus pull up and thought I'd ask this one last driver. He was heading to Pompeii but I convinced him (via the price of the full €2.70 ticket) to just drop me off at the base of the volcano, a 10 minute walk to the Torre del Greco train station and I was there by 3:00. This station had ticket barricades so I actually had to pay this time but it was only €2 to get to Naples via one of these characteristic trains.
I had no real plan for Naples. It was 3:45 when I arrived and I was meeting Erin in Rome for dinner so didn't have tons of time. Nonetheless I checked out the city immediately around the train station. There wasn't much but I did find a few pretty buildings.
And lots of cute side streets.
And some delicious street pizza for €1, bringing my total for the Pompeii/Vesuvius/Naples portion of my day to €29.40.
While I was wandering around a man started talking to me in Italian and I asked if he spoke English. He did and then after some polite small talk proceeded to ask me if I was a man or a woman. Sigh. It could have been worse, but it was annoying nonetheless. It's frustrating that I've had to learn to accept things like that happening, but it's kinda the reality of being visibly genderqueer. I can't control what others what but I can control how I react, and I'm still figuring out what works best. It's harder to deal with these things when I'm traveling because that's a time when I already feel vulnerable not knowing the language or the area, etc. Regardless of these annoyances, I can't let them stop me from enjoying myself.

Soon it was time to head to Rome to meet up with Erin. I caught the 5:25 train and enjoyed an hour of beautiful scenery.
Upon arrival, Erin and I immediately went out in search of food. She studied abroad in Rome for a short program so she took us to the first restaurant she ate at when she was here. I didn't need convincing to love Italian food, but this would have done the trick if I had. Gelato was also in store for us in the evening before returning to the hostel to plan our first full day in Rome.