The entire weekend we've been in Edinburgh the weather has been stunning but today it was absolutely impeccable: making it a perfect day for some leisurely strolls around the city and relaxing in some of the numerous parks spread throughout. But before that, Mihaela and I enjoyed breakfast next to our hostel. I had a bacon, haggis, and onion sandwich and it was so so good.
While eating we searched for free things to do for the day and one of the first things that came up was the National Museum of Scotland. I generally get bored in museums pretty quickly, but this was a really fun museum. They had everything from animals...
To the histories of different countries and cultures around the world - including Tibet which Mihaela and I had visited just 2 months ago...
To countless interactive exhibits...
To a beautiful skylit atrium.
It was hands down one of the most entertaining museums I've been to in quite a while. We began walking towards The Meadows, a large park in the southern park of the city, and stumbled upon University of Edinburgh's campus which (like basically all the buildings here) had some lovely architecture.
Once we arrived at The Meadows, Mihaela and I just laid in the grass, basking in the sun and enjoying life.
I could have stayed there for hours, but alas we needed to get some food before the next item on our itinerary. So it was back to Oink because it was cheap and delicious. And because we're both suckers for sweets, we got ice cream again. I went for the Scotch Whisky Ripple.
Now it was time for the Scotch Whisky Experience. For £15 you get a cheeky, leisurely ride in a barrel while watching animated videos of how Scotch whisky is made, a tour guide to tell you more about what makes Scotch whisky distinct, and a tasting.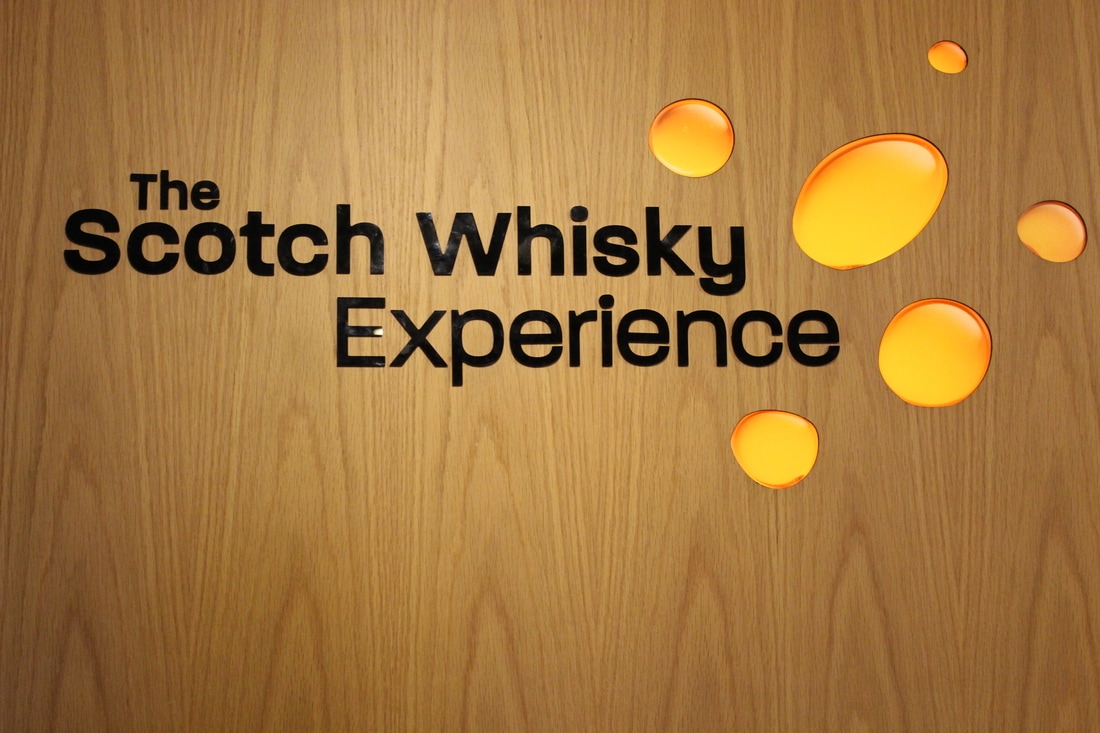 After the ride, you see a few more informative boards about the different barrels used to store whisky while it ages, and the "Angel's Share," which is the whisky lost to evaporation while it matures.
Next you watch a breathtaking video about the different whisky regions of Scotland and what makes each region distinct in taste. You get an accompanying sniff card so you can get an idea of what the whisky from different regions smell like as you learn about them. The video either intentionally or unintentionally also served as a promo for tourism in other parts of Scotland as they show you the magnificent landscape from across the country. Now I desperately want to make my way to the Highlands, Speyside, Islay, and Campbeltown and wish I had more time here (but I'll be back someday).
Now you get to learn about grain whisky and blends before getting a quick refresher on the different whiskies available to help you decide which one to taste (they have more expensive tour options where you get to taste more than one kind). I went with the Campbeltown whisky, which has hints of vanilla and caramel.
But before you actually taste your whisky, you're taken into the room where the world's largest Scotch whisky collection is kept. There are nearly 3,400 bottles of un-opened Scotch whisky that were all bought by Claive Vidiz. Despite the fact that they are un-opened, many have depleted due to evaporation (those dang Angel's are at it again). In this room you also learn the five steps for tasting whisky (this went more in-depth than what Eve taught us the first night) and then got to taste the whisky. I really enjoyed mine, but the small sip of Mihaela's Highland whisky I tried was much better.
At this point, it was time to say goodbye to Mihaela as she heads off to Paris for a short day trip tomorrow. Mihaela and I spent a lot of time together between Mongolia and Tibet in January, and I am so glad I got to get to know her better on this trip. Her laugh is infectious and there are few people who I've bonded with so quickly, feeling totally comfortable talking to about almost anything.

Now on my own for a few hours, I decided to just enjoy the beautiful weather in another park. I started out in Princes Street Gardens which has a great view of the castle.
But was only there for about 5 minutes before security came around and told folks the park was closing. Slightly annoyed to move from my comfy spot on the grass, I got up and made my way to the smaller park right next to Scott Monument.
I was there for about 20 minutes before again being told by security that the park was closing. Why they close parks when it's still light outside on a gorgeous day like today is beyond me. But I moved again and found myself sitting at the plaza outside the train station, enjoying a live band on the other side of the entrance, taking in my last few hours of Edinburgh as the sun sets, and grinning from ear to ear looking back at this close to perfect weekend getaway.