And the hostel saga continues…

So in case you didn't read yesterday's post, my plans for Couchsurfing my last two nights in Dublin fell through and in the process of booking another hostel, I accidentally only booked one night instead of two. That hostel was completely booked for tonight, but I was hoping there would be a cancelation. There wasn't.

So after checking out and leaving my luggage in their storage (I literally don't know how I would function while traveling if it weren't for hostels' luggage storage), I made my way to the bus stop to wait for my bus to Glendalough and got on my phone to book a THIRD hostel in Dublin. I got pretty used to changing sleeping locations every night on the Trans Siberian/Mongolian trip this past January, but we were always either in a new city or on our way to a new city when that happened. So three hostels over three nights in a single city feels a little excessive. As I wrapped up getting that booked, the bus arrived and I was soon on my way to Glendalough via a tour bus. I kinda hate tour buses, but based on my rushed research, this seemed to be the cheapest way to get there along with other stops that the regular bus doesn't make. So I made an exception in an effort to make the most out of my limited time here and it ended up being a pretty good experience.
Glendalough, a peaceful monastic site surround by the serenity of the Wicklow Mountains, definitely set my mood for today, which was in stark contrast to yesterday, a day filled of testing my fate on the edges of the Cliffs of Moher. Both good, just different. Glendalough is one of those places you can see in a whirlwind as it takes less than 15 minutes to get from the main entrance to the upper lake, passing all the major attractions along the way. But it's also relaxing and gorgeous enough to spend hours there, just enjoying the views and fresh air. We had about an hour which felt like a good balance for me.
After departing Glendalough, we made our way to Wicklow Point. Our guide built up the hype around Wicklow Point, supposedly a great view point for the Wicklow mountains, but I was honestly slightly disappointed (just take me back to Tibet please).
Given we were in the mountains, it was pretty cold and very windy, so we only stayed at the lookout point for about 10 minutes before hitting the road to drive to Kilkenny. Along the way, our guide talked about all the movies and TV shows that have been filmed in the area, such as Braveheart and Vikings. We also drove through a small village called Hollywood, which is supposedly where the Hollywood we all know and love(?) got its name. They have their own Hollywood sign.
Soon I passed out and woke up as we were pulling into Kilkenny – a small town about an hour and a half hour southwest of Glendalough. I started out by exploring the grounds of Kilkenny Castle. You can pay to go in, but I've had more than my fair share of castles in the past two months between Wales and Scotland so decided my time and money would be better spent elsewhere. But the courtyard is open to the public.
I was getting pretty hungry by now so found a pub to grab a quick bit. I also had an Irish Coffee – which combines two of my favourite things, whisky and coffee – and oh my goodness it was delicious.
With no real plans in mind, I paid for my food and started wandering around. I stumbled upon St. John's Parish. I walked in to find a completely empty sanctuary.
It was so still and quiet that the sound from my camera shutter echoed throughout the dimly lit room. The blue and pink pastel ceilings, deep purple for the Advent season, and detailed apse were illuminated by nothing but sunlight coming in from the numerous stained glass windows.
Turn around and you see the organ, with intricately painted pipes, situated in front of another stained glass window.
I don't know if was simply the pure serenity from being in the sanctuary by myself or if the cathedral was really that beautiful, but I loved every second in there. Every moment I thought I would leave, I was pulled back in. I grew up going to church regularly, but have since grown away from faith and religion, so it was strange feeling so drawn to a church.

When I did finally decide to leave, I meandered through the streets of Kilkenny until I stumbled upon St. Canice's Cathedral and Round Tower. The Round Towers, a large stone cylinder, were built so pilgrims could easily see and make their way to churches throughout Ireland. While many of these remain intact, there are only two which are open to the public for climbing. And I'm a sucker for a good view. So I made my way inside the cathedral to buy my ticket to climb to the top. But once inside the medieval cathedral, I was intrigued by the almost entirely stone structure and it's contrasting wooden ceiling and stain glass windows. So I got a combo ticket for €5.50 and wandered around inside for a bit.
Knowing my departure time was approaching but still wanting to explore the village more, I quickly made my way outside to climb up the round tower. It's 30 meters tall and you climb 121 steps. Except they aren't really steps, just ladders. I was immediately reminded of the steep steps throughout the monasteries in Tibet that were crowded by dozens of people pushing their way to the top. Even though I was alone as I climbed the tower, I felt almost as claustrophobic as I did in Tibet simply because of how small the tower is inside. I felt like a pseudo gymnast trying to work my way between the wall and railing to get on the ladder, and it only got tighter as you went up. Towards the top I could touch the wall on either side of me at the widest point of the cylinder.
I finally made it to the top to discover three others taking pictures and enjoying the view. There was basically no room to move given most of the free floor spaces consisted of the hole that you climb through at the end of the ladders. We managed to make it work though, until two more people popped their heads through the hole. Thankfully, the party that had been up there before me took that as a cue to make their way back down, giving us more room for pictures and enjoying the scenic views of Kilkenny and the Irish countryside.
After a few minutes I started making my way back down, and encountered a few folks making their way up which caused some very tight and uncomfortable situations as I had to lean over the railing on one of the floors so they could slither along the wall to get by me and my protruding backpack.

Upon reaching thebottom, I made my way towards some of the buildings I had seen from the top. The first of which was St. Canice's Parish, right across the street. It's much smaller than the cathedral, and the modern design is strikingly different despite the similar names.
Next was Black Abbey, one of the first Catholic churches in the Dominican Order in Ireland.
When I left Black Abbey, I had 25 minutes until the bus was scheduled to leave and I was 15 minutes from the meeting point. So of course I ran up a hill towards St. Mary's Cathedral to try and squeeze that in. I accidentally went in the back at first, which led me to a small little chapel in the basement.
I circled around to the front and went in as quickly as I could while still being respectful and quiet (it is a church, after all).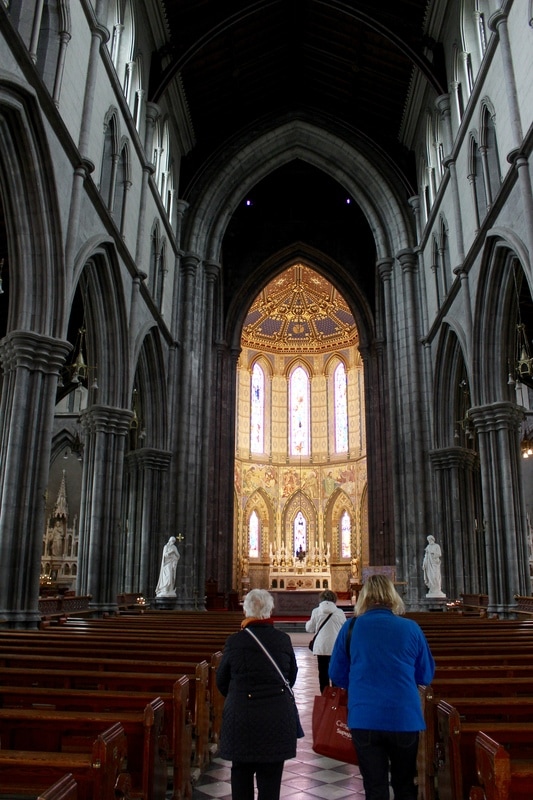 I was down to 8 minutes until the bus was departing. Google maps said I was 15 minutes away. Well I guess it's a good thing I've been training for a half marathon (well, supposed to be training…). Thankfully the directions were pretty simple: head east until I hit the river, then south until I reached the meeting point so getting lost was pretty unlikely. I glanced down at my handy compass bracelet and started running east, with my camera flopping around on my shoulder and backpack filled with my computer, water bottle, kindle, and other random small items bouncing on my back.

I made it just in time and only managed to almost run one kid over in the process. The bus ride back was quick and easy (mostly cause I zonked out again), and before I knew it I was gathering my luggage yet again to move to my third and final hostel in Dublin.

After settling in there, I met up with Tori for a farewell dinner and drinks at the Brazen Head, the oldest pub in Ireland. We enjoyed our Irish ciders, friendly conversation with the couple next to us, and the quirky vibe of the pub.
Neither of us had the energy to go out, but we decided to walk along the river for a bit, enjoying each other's company knowing we would be saying goodbye soon (but also knowing we will be seeing each other next month when I visit America!).
One thing I love about Tori is that even though there's an ocean between us and our personality types are strikingly different in many ways, we can talk to each other about literally anything no matter how far apart we may grow (geographically or metaphorically). It was so great to get to see her this week and I'm already looking forward to seeing her again.
Now it's time to relax and unwind after three packed days. Tomorrow I spend the morning and early afternoon here before flying to Prague where I'll not only be there to sightsee and experience the culture, but also to run a fucking half marathon cause I apparently hate myself...